WERTZ FIELD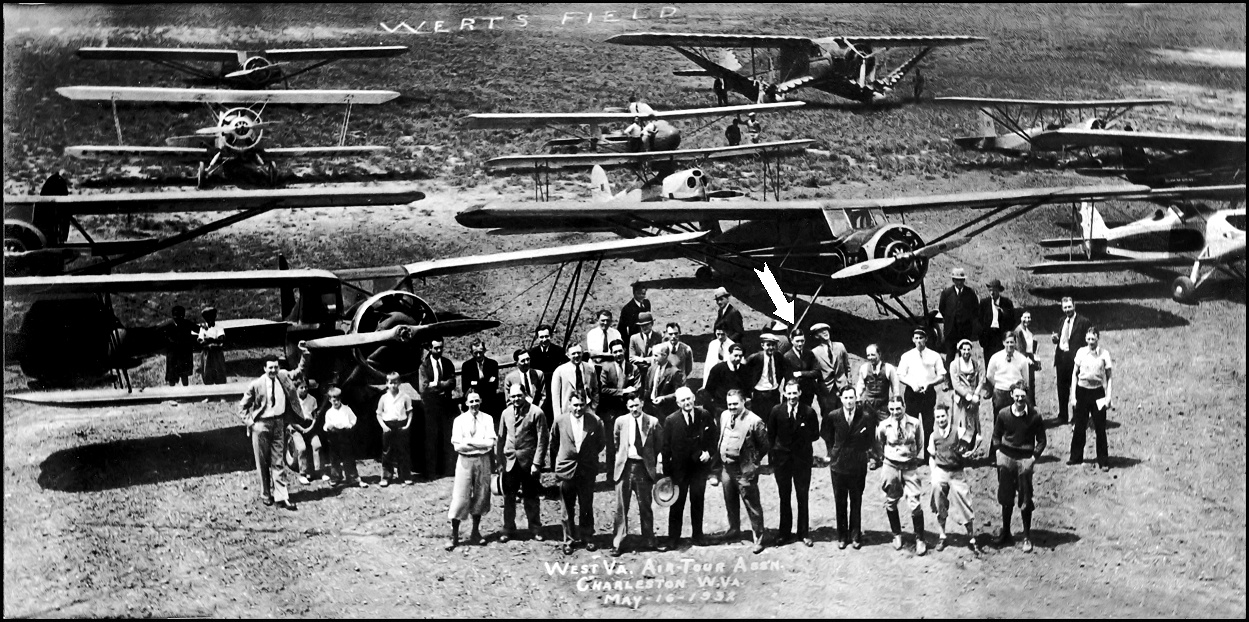 O.R. Hamrick is seen above with his arms folded for this picture.
This is my personal family photo and one of the best examples of aviation photography taken in our area. You may have seen this photo published elsewhere, but you never learned of the story it possessed:
I wont get into a long story of being adopted as a newborn, but I did meet my Bio family in my mid 20s. My fathers side were all from Webster County. The Hamricks practically owned the county. While few of them were wealthy by a long shot, they still managed to live some pretty exciting lives because they were born with what I call "the spark": A need to learn and try new and different things. This is in my DNA and the puzzle fits perfectly. For instance: My father built his first plane in the late 50s, rode Harley's, and even skydived in his 60s, just as I did.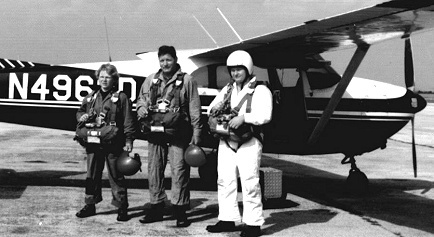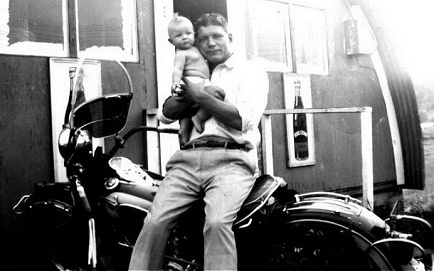 BUT THIS PHOTO IS ABOUT MY UNCLE ORAL, MY FATHERS OLDEST BROTHER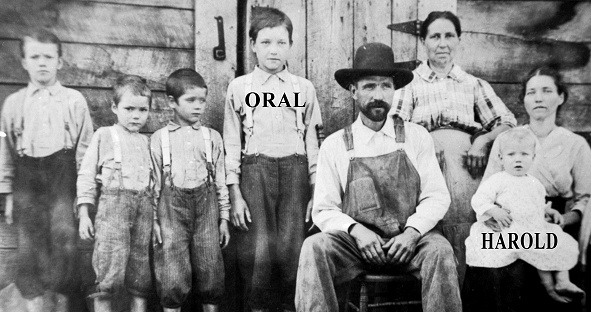 His name was O. R Hamrick, the oldest of the 5 Hamrick brothers. He was one of the early aviators in WV. He was also the manager of the Clarksburg Airport while still in his mid 20s. He was such a skilled aviator, that his job was flying the "National Commander" airplane, one of the finest private aircraft in the state, and arguably the entire United States at the time. The owner of the National Commander was Louis Johnson, famous founder of Steptoe & Johnson law firm. Johnson was National Commander of the American Legion at the time, (1932-33) and would later become Secretary Of Defense during WWII mostly because he was the chief fund raiser for Harry S. Truman's 1948 presidential campaign. He lived in Clarksburg as did my Uncle. This airplane was "an event" everyplace it landed in 1931. Not only was aviation relatively new in the day, but many West Virginians had never seen an airplane like this right in their own backyard.
As a side note, my Uncle flew the plane (and others) to Canada many times to pick up Booze during prohibition and transport it back to Clarksburg. Naturally, all of the local authorities were in on it and so my Uncle was pretty free to do his job without much worry.
THE CRASH
Oral, with his cousin as copilot took off from Clarksburg in Nov of 1932 to pick up Louis Johnson in Wash DC and bring him home so that he could cast his ballot for the US elections. The weather was possibly marginal and let's face it, you pretty much flew by the seat of your pants in 1932. Crossing the mountains between WV and Virginia, the plane went down, possibly due to icing, and both pilots were killed instantly. For the next three days, the crash was front page news in every newspaper in WV and beyond. (I know, I archived them)
Here is just one front page from Huntington WV. Click on the newspaper and you will be able to read the article.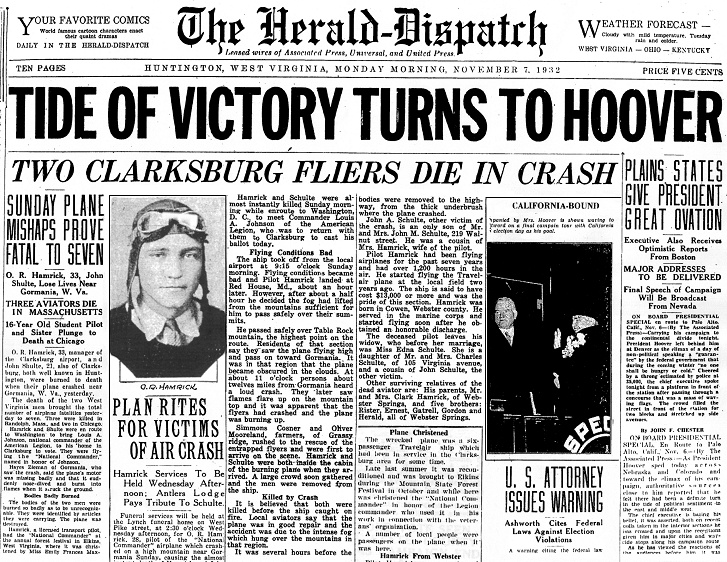 They say that every family has one special story. This is mine.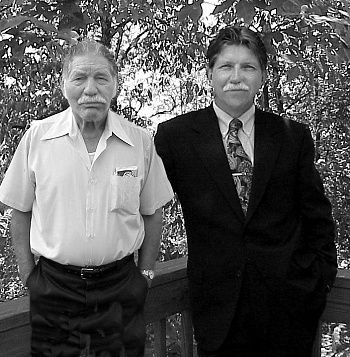 This is me and my father, Harold Hamrick before he died. He came to visit and I took this photo and superimposed his mustache on to me just to show the resemblance. Life gets complicated. Make peace with it.




AN INTERESTING CONNECTION
All families have interesting connections. The same family can have a rich side, and a poor side. This was the case of the Hamricks. About 95% of the Hamricks in America originated in Webster County West Virginia. To this day, you will see the Hamrick name everywhere. An interesting thing I've learned about the Hamricks is that they were all intelligent. Even if they never passed 6th or 7th Grade, they all had what I call "the Spark". This allowed them to become successful no matter what they did. Success can mean many things. It can mean you worked hard and provided for your family but was never without what you needed in life. It can also mean that you managed to do even more, and become wealthy. There were two basic splits in the family tree. One became wealthy, while the other did OK by anyone's standards. For instance: The statue of the Mountaineer on the Statehouse lawn? That was modeled "Rimfire" Hamrick from Webster County. A well know Hamrick in Charleston was Dr Hamrick, who's mansion stood on Fort Hill for all to see. (his sons are doctors also). They claim "it's all Relative in WV". This is very true, at least for the people who were here for many generations. I can personally connect with every Hamrick in America today. How you say? Because the same Hamricks that came to the country in the 1700s are the same Hamrick line today.



It took me 50 years to discover that I had another locally famous relative in town.


Lenard Riggleman was the President of Morris Harvey College, now the University of Charleston.
The Hall and dormitory is named after him today. He had a great influence on the college.
His mother was Harriet Hamrick of Webster County.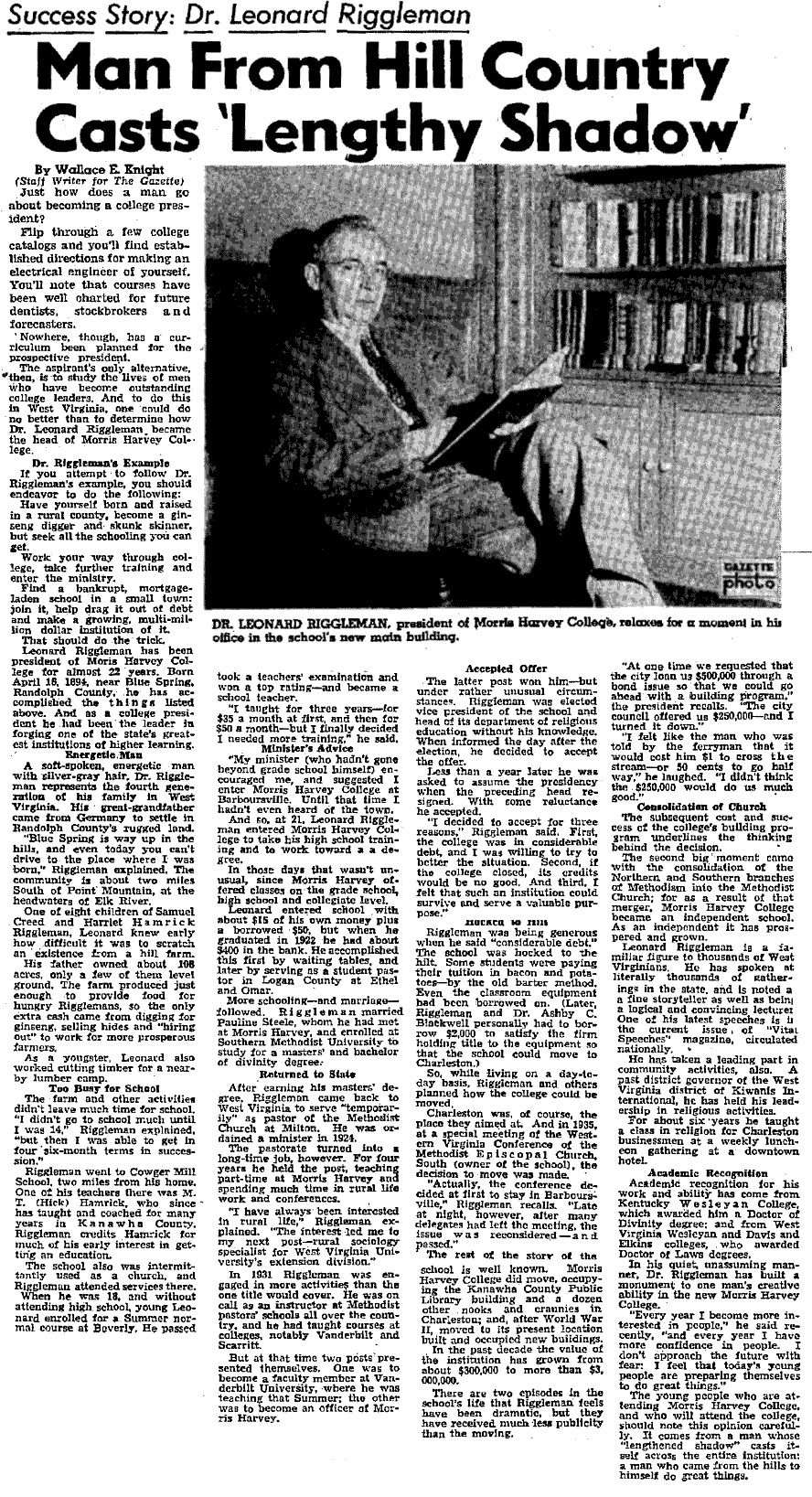 The connection:
My father and his parents on the right.
Riggleman's mother and family on the left.