THE "BEELINER" SCHOOL TRAIN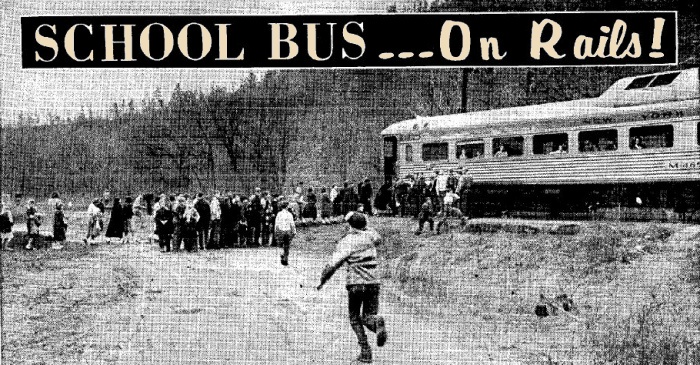 When I was a child, I lived on Dutch Ridge and missed riding this train because we moved back to Charleston. I saw the train gliding along on the NYC Railroad right in front of my house on Smith Street. It parked for the longest time there off Broad Street in the early to late fifties (I've lost track of time) and then it was gone. I heard many older people talking about riding this train for years afterwards. The train , the route, and the people have become an obsession with me.



Here is the car parked a block from my house at the NYC station.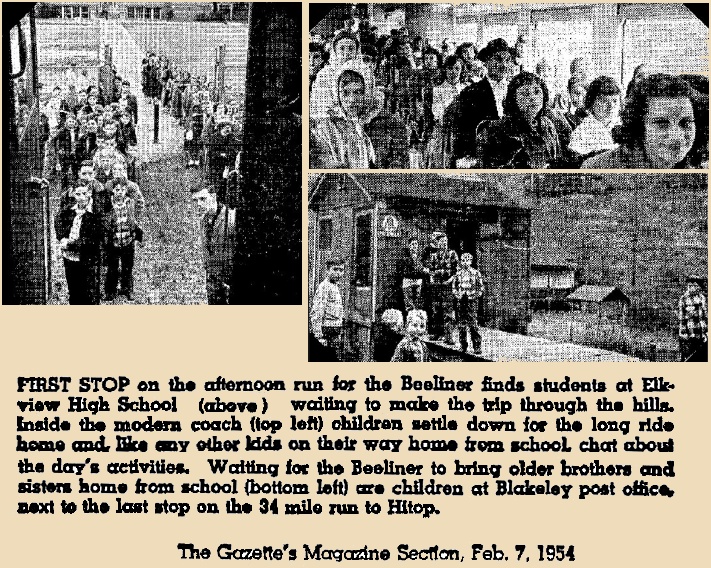 From The Charleston Daily Mail, Aug 11, 2014



From 1925 to 1959, hundreds of students living between Hitop and Elkview rode it through the hills of Blue Creek, which was home to several small coal-mining communities.

At the height of coal production, there were 20 operable mines along Blue Creek at towns like Blakeley, Wills Hollow, Kendalia, Middle Fork and Sanderson.

So secluded were these towns that a railroad was built to haul the coal, timber and other resources back into Charleston, which was just a small river town at the time. The only other means of travel was by the narrow dirt roads once used by horse-drawn wagons.

Most of the mines closed by the early 1930s, but enough people had moved to the area by then to warrant the addition of a twice-daily passenger line to take students to school.

Children were able to walk to class for the first 10 years of their life because each town had its own elementary school, but the train was the only way students could travel the 10 or more miles to the junior high school in Quick or the high school in Elkview.

This prompted the Kanawha County Board of Education to commission New York Central, which operated the railroad, to add a passenger train in 1925 so seventh- through 12th-graders had a way to school. The school board also paid the fares of each student.

Students would board the train as early as 7:30 a.m. and arrive at school by 9. They had the school day to socialize, but were not afforded any time once the bell rang because the train left immediately after at 3:10 p.m. Most wouldn't get home until after 4:30, depending on how far away they lived from their stop.

Carlos Morris, who rode the train during sixth and seventh grade, said some students lived miles away. Others lived so far from the stop they had to cross a mountain just to get home. For those students, the school day could last as long as 10 or 11 hours.

But for Edith Brewer, another train rider, bonds were made on the train.

"That's where we had our social life," she said. "I don't feel like any one of us felt like we missed out."

While the train students weren't able to participate in school athletics or extracurricular activities, the train served as a connector to the rest of the world.

"If it weren't for the railroad, we wouldn't have been able to go to school," said Harold Dunbar, who also rode the train. He said many students stopped attending school after sixth grade before the train became an option.

While school sports weren't an option, the children living in those communities still found time for games. Morris said many boys would arrive at their stop early to play football with an old beer can.

Others would arrive early to make sure they got a window seat when the temperature was warm. In wintertime, they flocked to the station to warm their hands at a stove.

While most of the stations and tracks have given way to the distress of time, the stories live on.

Morris said one of his most vivid memories is of his first train ride. While the train only moved along the tracks at 15 mph, Morris said he thought the car was going to tip over when it went around its banked curve.

"I had to clutch the seat in front of me," Morris said, adding that he realized embarrassingly soon he was the only one on the train doing it.

The total length of the railroad — from its starting point on Bigley Avenue in Charleston to its final stop at Hitop — was more than 34 miles.

There were 21 stops along Blue Creek that received students, and by the time the train reached Coalridge, the 101-passenger cars were near capacity.

In its near half-decade of service, the railroad also was used to carry mail and occasionally acted as an ambulance.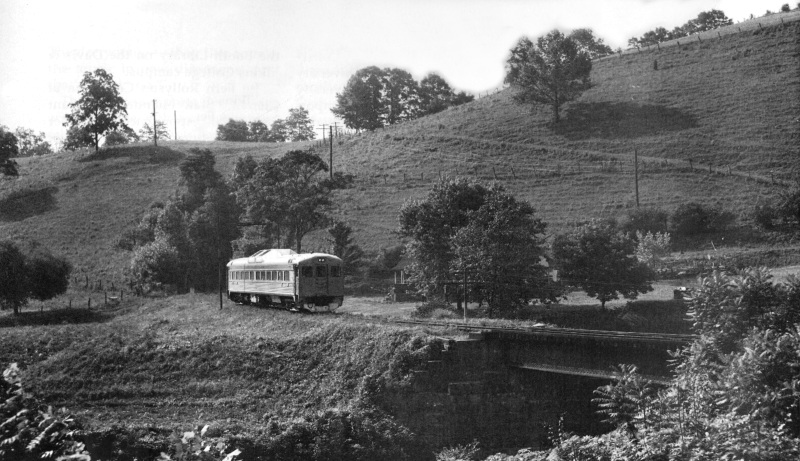 The later Bud Car train in 1954 in Sanderson area
Photograph by Richard Cook
Year ago, I rode the same rail bed that the school children did.
Here are a few photos I took: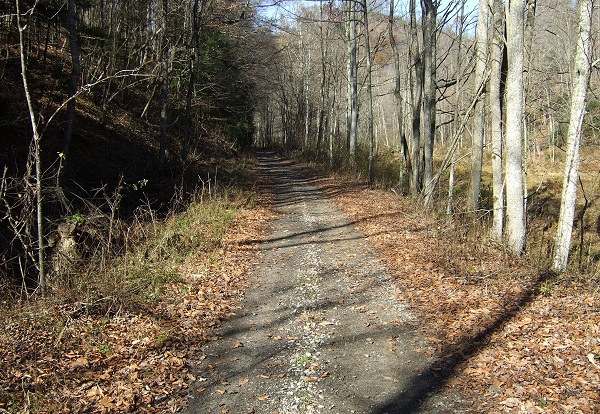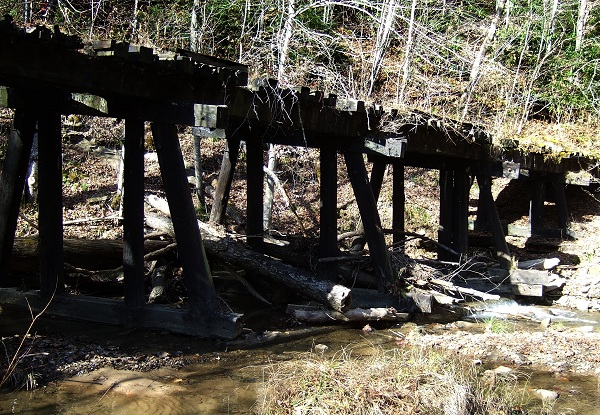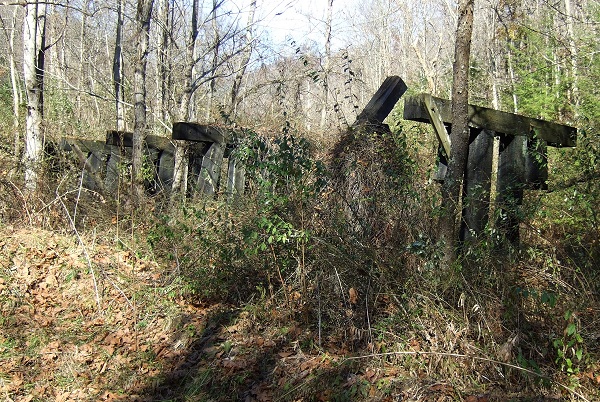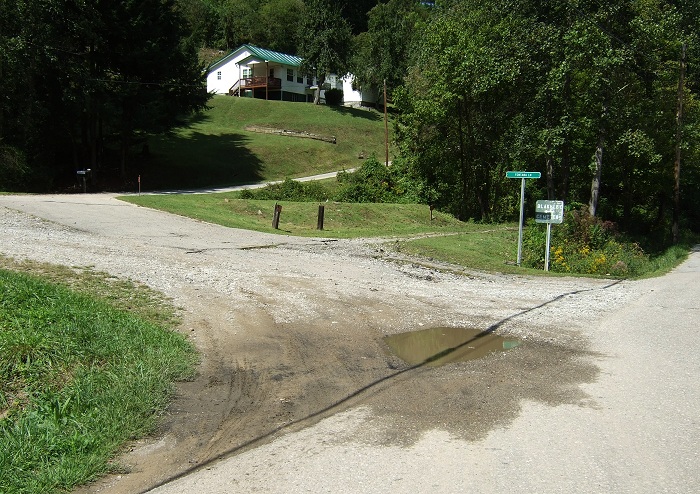 This photo shows the last stop of the Beeliner near Amelia WV. It actually went just a little further if no coal cars were in the way, but this was the official last stop. The sign says "Blakely Cemetery". Just beyond those signs is the last railroad mile marker below.....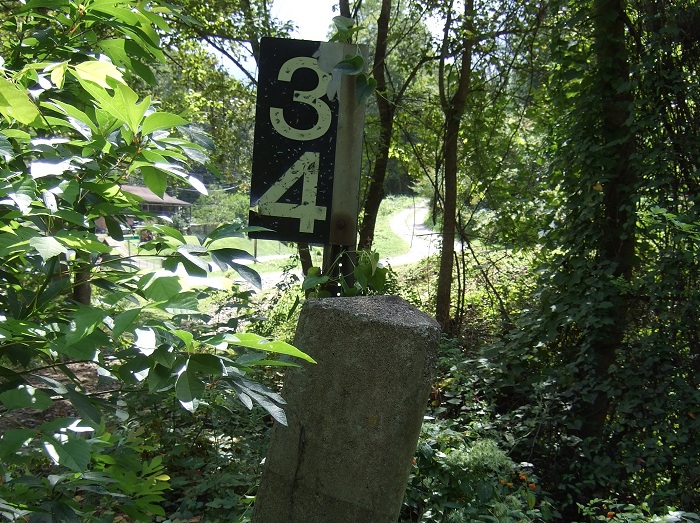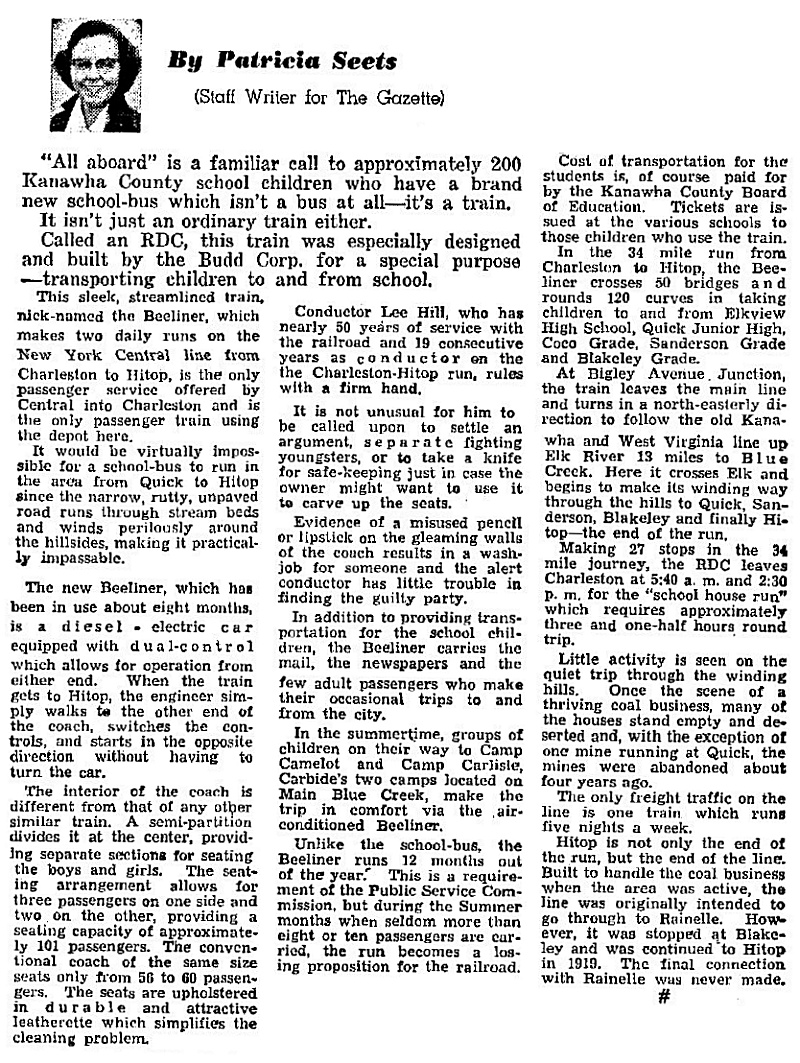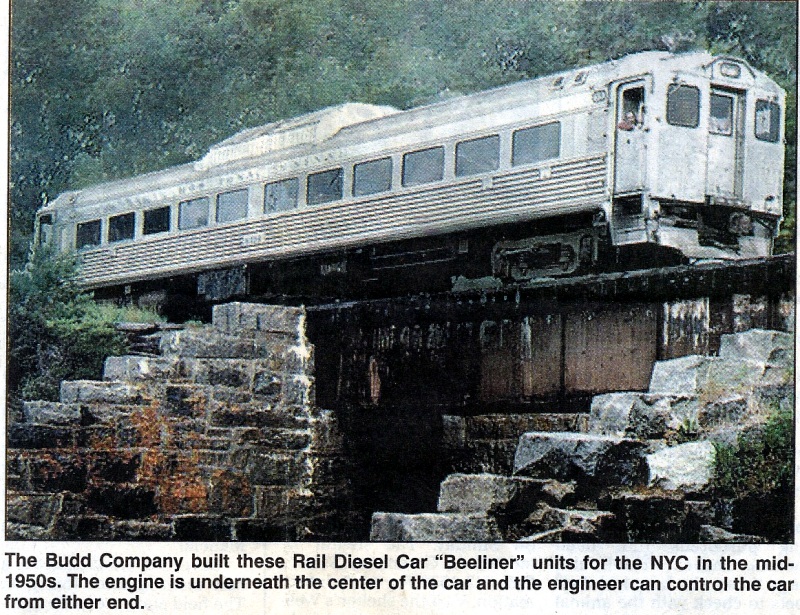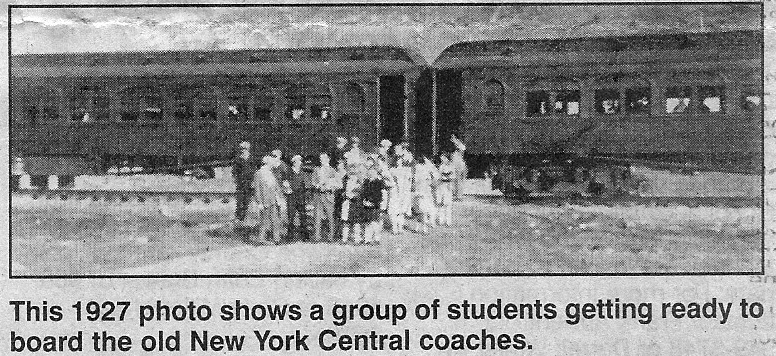 Much information on this page courtesy of Curtis M. Morris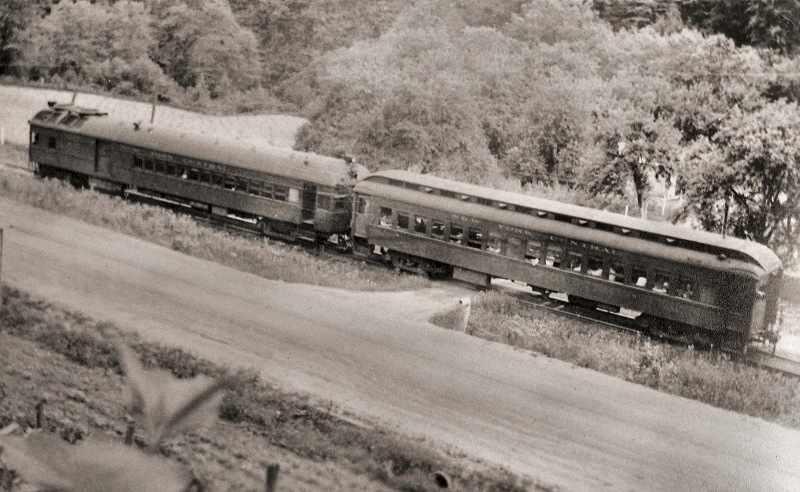 Gas engine New York Central passenger train at 3 mile.
Photo by Ora Workman courtesy of Edith Brewer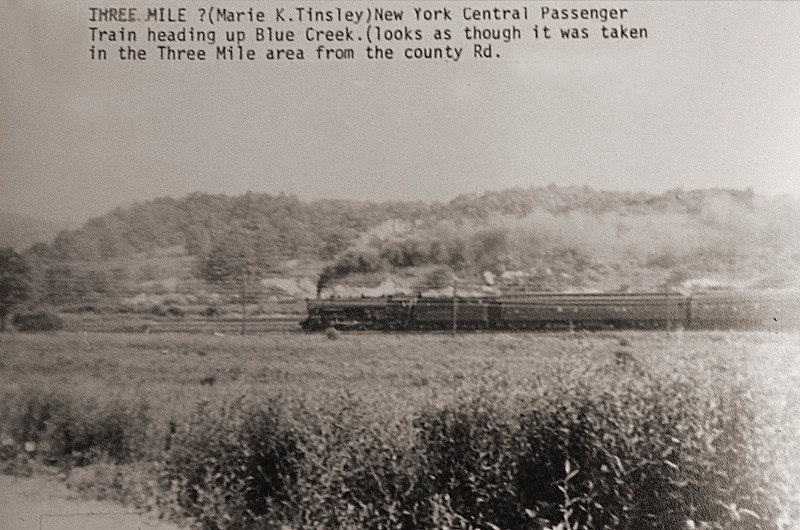 Photo courtesy of

Edith Brewer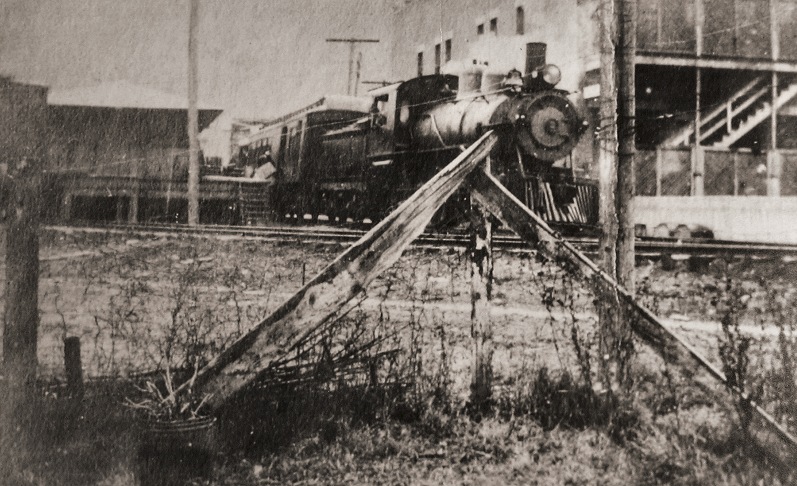 NYC train as it crossed Blue Creek
.
Photo by Hazel Work
courtesy of
Edith Brewer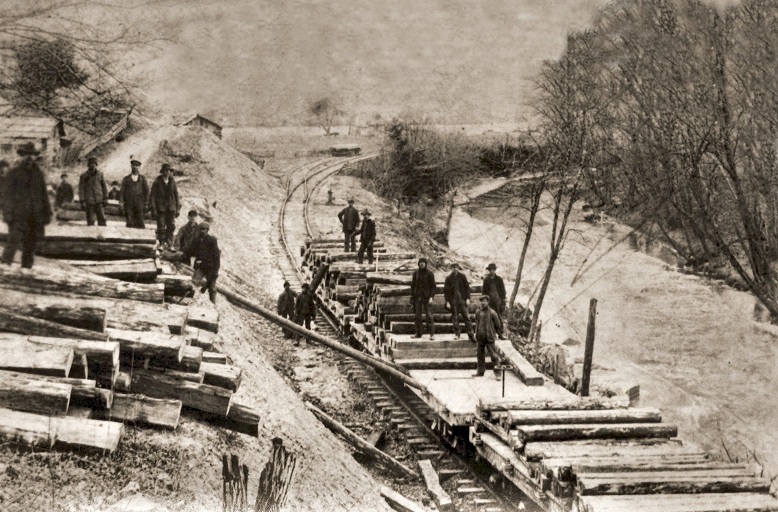 Laying the tracks in 1905 through Quick WV
courtesy of Edith Brewer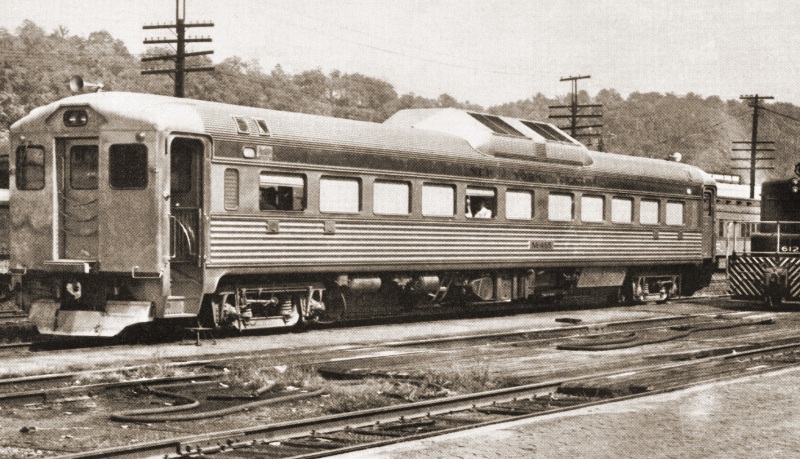 This is the train I saw everyday as it parked at the end of Broad Street
Photo courtesy of
Edith Brewer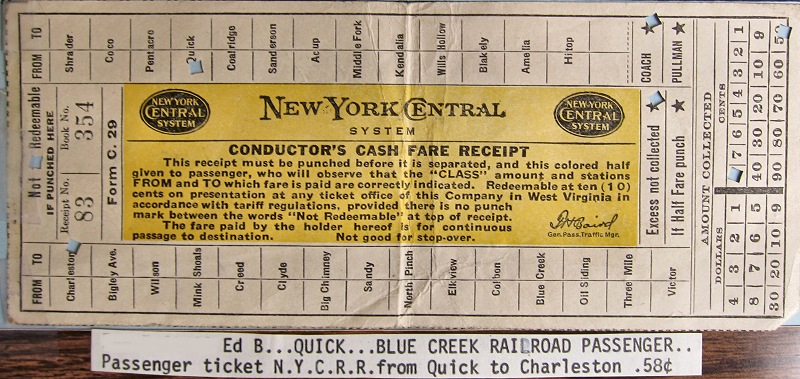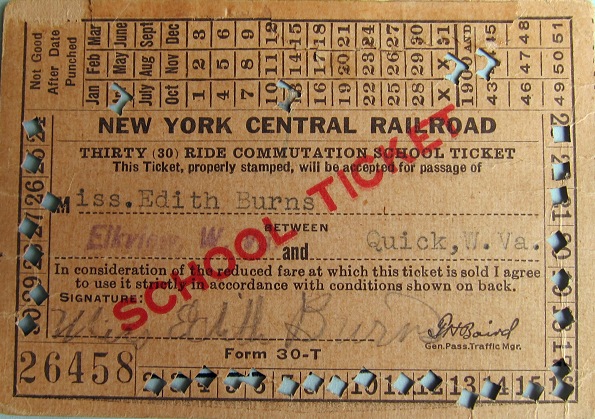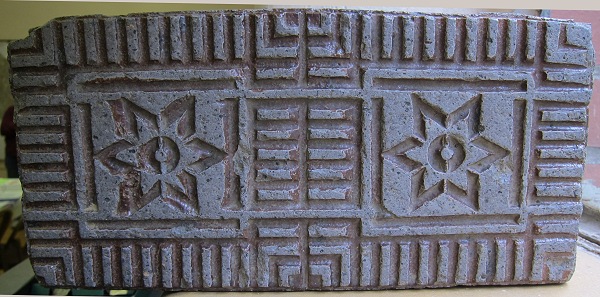 This is a brick from the property surrounding the old NYC Rail Station on Broad Street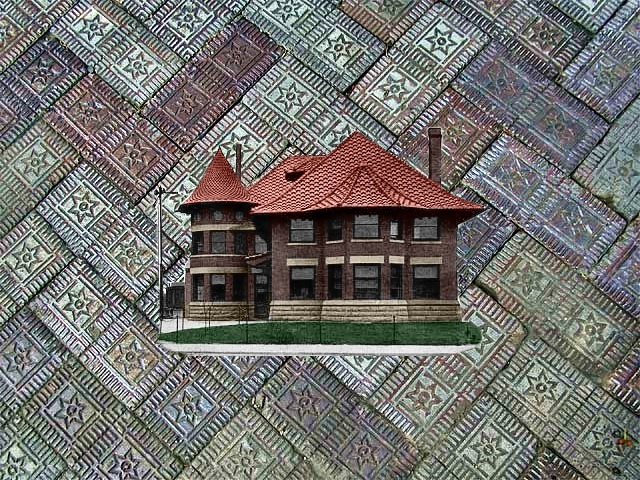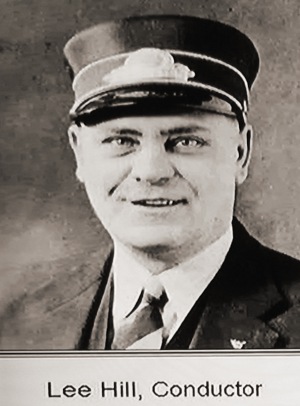 Lee Hill was known by several generations of school children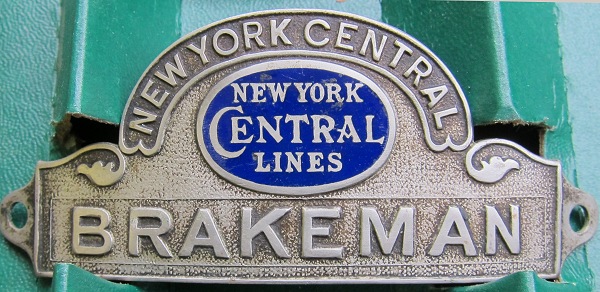 This great article from 1950 explains the route and the brand new Diesel Engine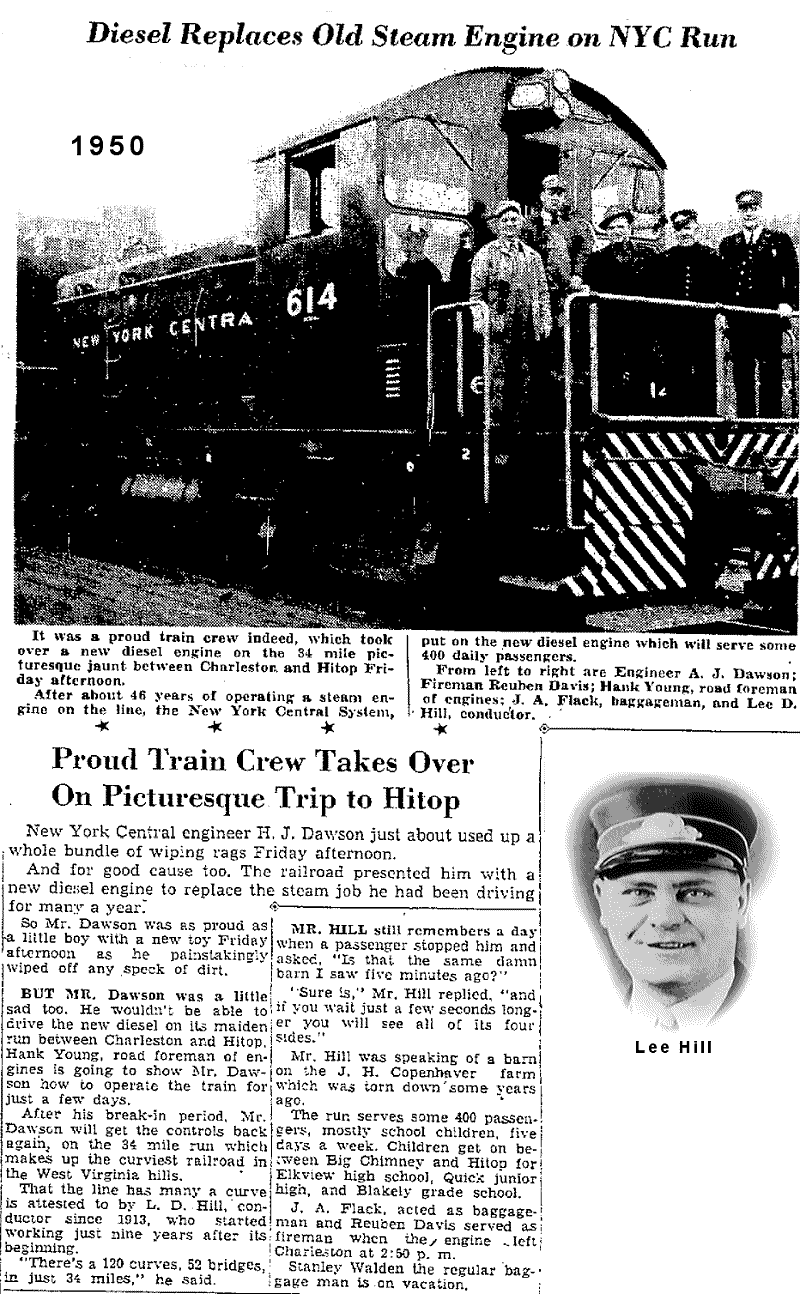 But this Switch Engine didnt last long when they decided to use the Budd Car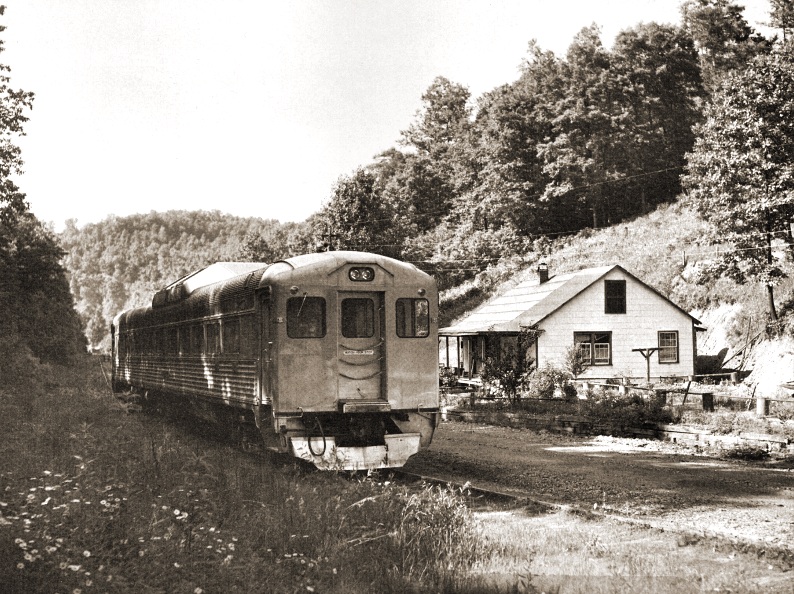 Budd Car at Hitop.
Photo by Richard J Cook, courtesy of the Allen County Ohio Historical Society

For folks who dont know where Hitop, Amelia, Kendalia is, just turn up the hollow at Cedar Grove and follow the road all the way up Kelly's Creek until you come to the very end.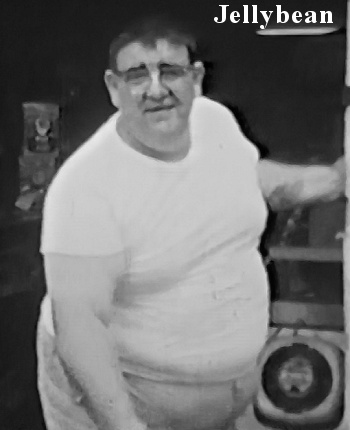 Postscript: As I lived right near the tracks in Charleston, and my Uncle own a tavern on Broad Street (Bernies), we were very well acquainted with many of the railroaders who lived and worked in this area. One man in particular was a huge guy that everyone called "Jellybean". He was a Conductor on the NYC train that ran from Charleston to the Carbide Sanderson mines about every day.

John Pierson was his real name, but no one ever called him by that. He lived a ways up Magazine Hollow., but not sure if he was born and raised there. I knew Jellybean very well (for a kid) and saw him almost every day. He died of a heart attack while working on the New York Central in 1966.

In those days, every train had a caboose., and there were always 3 or 4 parked right off Capitol Street waiting to be used. Us kids (me especially) spent hours playing in them. They had ladders that you climbed to get to the top where you could
sit
and see out . I'll never forget the smell of them: Coal and wood. Each caboose had a small coal stove and as I recall, a small John that simply was a hole to the tracks below.

I had begged Jellybean to take me for a ride in the caboose for a long time. Finally one day he asked me if I'd like to go all the way to Sanderson on their next run. (he had already cleared this with my mom) and of course I was jumping for joy. I was maybe 11 or 12 at the time.

The next morning I met Jellybean at the caboose, which was within sight of my house, and after some shuffling around of empty coal cars, off we went. This would be the greatest adventure of my life so far. A kid... on a freight train... riding the caboose! Can you imagine that today? NO!

The thing I remember most about the trip was that A... I found myself in a completely unrecognizable world only a few miles from my house, and B.... it was mostly secluded, the tracks running though wooded areas where all landmarks disappeared. I was all over that caboose! Up top on both sides looking out the windows. On the front and back platforms.... everywhere I could go! It WAS the trip of a lifetime for a kid. The really strange thing is .... I dont remember Jellybean being in the caboose with me. He may have ridden the engine, but that would have been unusual, but possible I suppose because the train wasnt very long..

Crossing over Blue Creek was when things really became
unrecognizable. I saw the most beautiful scenery! We even went through a couple of small tunnels .....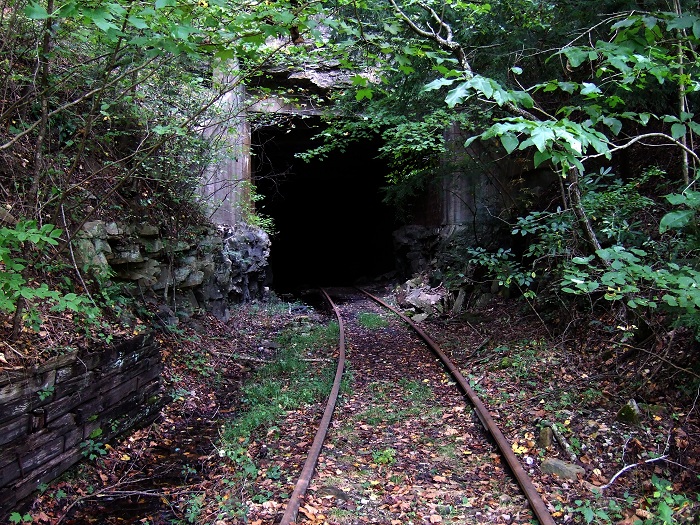 and over trestles.....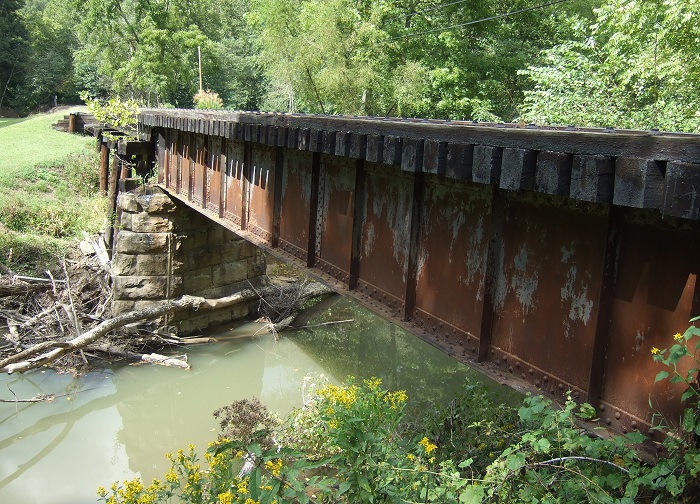 Finally we arrived at the Sanderson mines and traded empties for full cars. We then returned home, and the trip back was just as exciting. I knew that not too many kids had the opportunity to do what I had just done, but I didnt know that the tracks I had ridden were the same tracks as the locally famous Beeliner.

As I look back on that trip, I know that no kid will ever be able to ride a caboose on a freight train . To begin with, there ARE no caboose's anymore. And the laws of the land would never in a million years allow it. ( it wasnt allowed back then either, but you all know how it was back then )

I didnt realize how important this experience was at the time. But now, I know it was a one in a million opportunity, and I appreciate the memory.... and especially Jellybean for making it happen.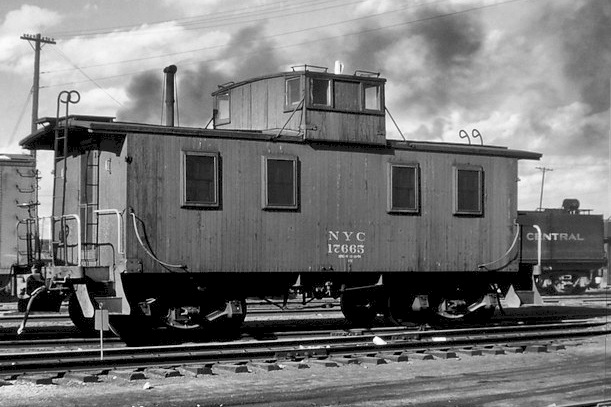 FINAL NOTE: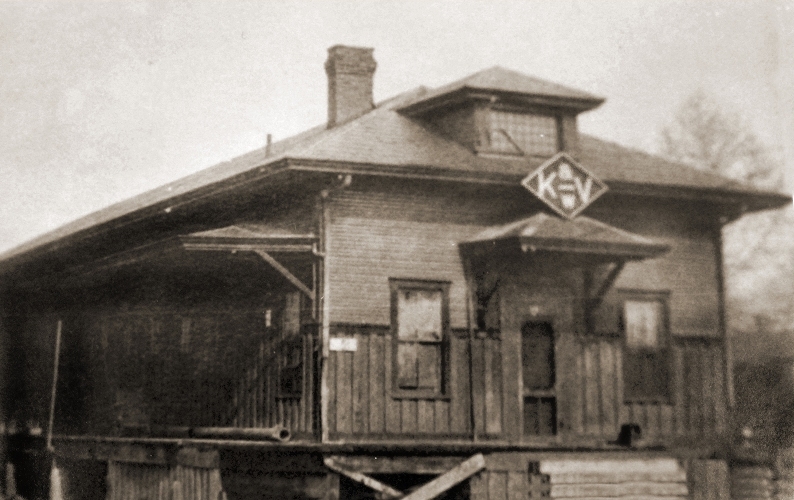 Main station of the Kanawha and West Virginia Railroad on Spring Street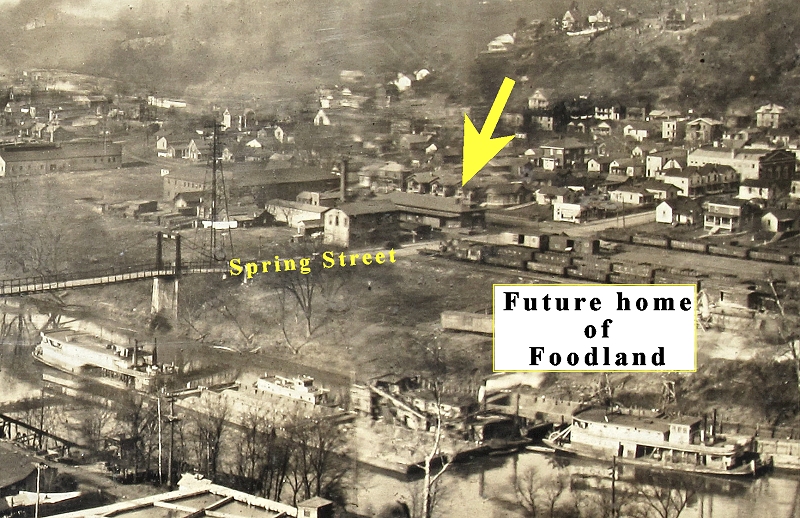 Spring Street on the West Side. Elk River in foreground. Photo taken in the early 1920's.